Andy Brush Quintet
Featuring Ashton Jones. September 28 @ 7.30pm
SOLD OUT!
We are delighted to welcome back Andy Brush, a fantastic saxophonist, this time accompanied by some talented musicians new to Gravelly Barn, including the much-acclaimed vocalist Ashton Jones.
The evening should be a wonderful selection of (as Andy describes it) "soulful jazz and funky grooves". Tickets are now on sale at £20 each, to include a cheese platter supper. There will be a bar serving wine, beers and soft drinks. For tickets contact 01920 822229 of 07905 184619.
The musicians
Andy Brush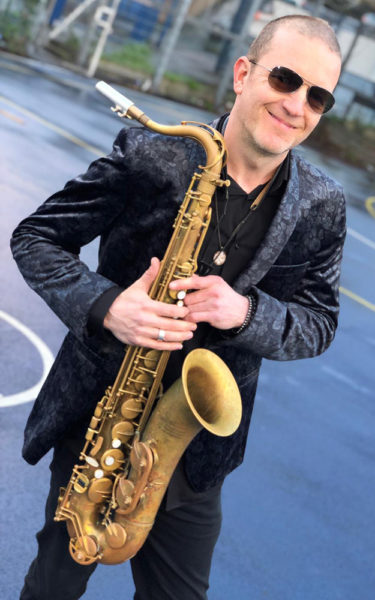 Andy has been a professional saxophonist since 1993. He has travelled extensively throughout the world with various touring bands to such places as New York, Tokyo, Florida, Taiwan, Moscow, Barcelona and Rome. Also playing at many clubs and festivals across the UK and Europe.
He has appeared on many live and studio recordings on CD, vinyl and DVD including the live concert CD/DVD "Secret Affair Live at The O2 Academy, Islington" plus demonstration CD's for Panasonic keyboards. He has been teaching private one-to-one saxophone lessons specialising in jazz and improvisation since 1995. As well as running saxophone workshops.
Dan Compton – Guitar/Keyboard
Dan has played the guitar for 20 odd (very odd) years. There are no stars in his black book, but every local musician he's played alongside over that period have been some of the finest musicians in Essex and London, in his own humble opinion. At the moment you can find him dressed as a chef and jumping around like a fool in SoulKitchen, Essex and Suffolk's premier party band, and attempting seriousness in the Andy Brush Quintet. If anyone has found any correlation between the two, they have been kind enough not to mention it.
Martyn Blagden – Keyboard/Trumpet
In his own words… It seems a piano and music has been part of my every day since the age of six. Piano lessons, school band, Town Silver Band, school orchestra, and then on to a 24-year career with HM Grenadier Guards Band. Always playing, always performing, at home and numerous trips to all the continents in uniform. Always Piano… then there was bassoon. And then trumpet, which I seem to have kept hold of.
Always something to do with music, a love for jazz, and just entertaining in lots of musical guises. 250 singers each week too, and as Bob Marley once said "One good thing about music, when it hits you, you feel no pain." What could be better?
Bill Dyer – Electric/Acoustic Bass
Over forty years' experience, performing and recording with the likes of Jet Harris (Shadows), Tony Jackson (Searchers), Steve Harley (Cockney Rebel) and Roger Taylor (Queen). Bill has toured Europe and the UK extensively and trod many a famous stage including Glastonbury and the Royal Albert Hall.
Adam Houghton – Drums
In his own words … "I always wanted to learn to play the drums and that's still my dream now. However, in the last 30 odd years, it has transpired that me hitting things – often, mainly too loudly and even sometimes actually in time – has allowed me to tour the UK and Europe on many occasions. Lucky for me that no one has yet seen through my outlandish claim of being almost competent"
Special Guest – Ashton Jones – Vocals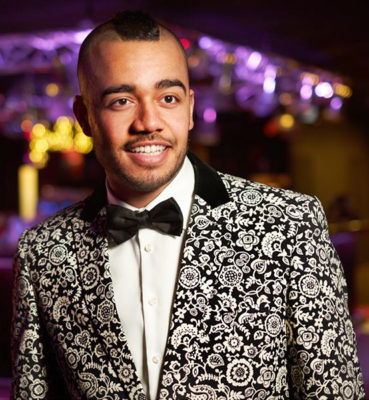 "Incredible stage presence and vocals" – Cheltenham Jazz Festival
"He's got a killer voice and knows how to work a crowd" – Jeffrey Daniel, Shalamar
Ashton Jones is a British funk and soul vocalist, songwriter and performer, specialising in vibrant, dynamic, live soul and funk performances. His influences include a melting pot of classic artists, including James Brown, Earth Wind & Fire, Rick James and Prince.
With a throwback style rarely seen on this side of the Atlantic, and performances that deliver soulful melodies, gritty funk and sparks of falsetto, Ashton prides himself on offering a brand of energy, flare and musicianship that captivates the audience. His repertoire includes classic interpretations, along with original material that spans the musical spectrum of Soul, Funk, Jazz and Motown.
Recently selected to support Grammy Award winning, multi platinum selling artists SHALAMAR on their UK tour, and with numerous sold-out shows of his own, including Montreux Jazz at Harrods and two performances at Cheltenham Jazz Festival, Ashton is certainly an artist in demand.