Choice Matters
May 26 – June 3 2018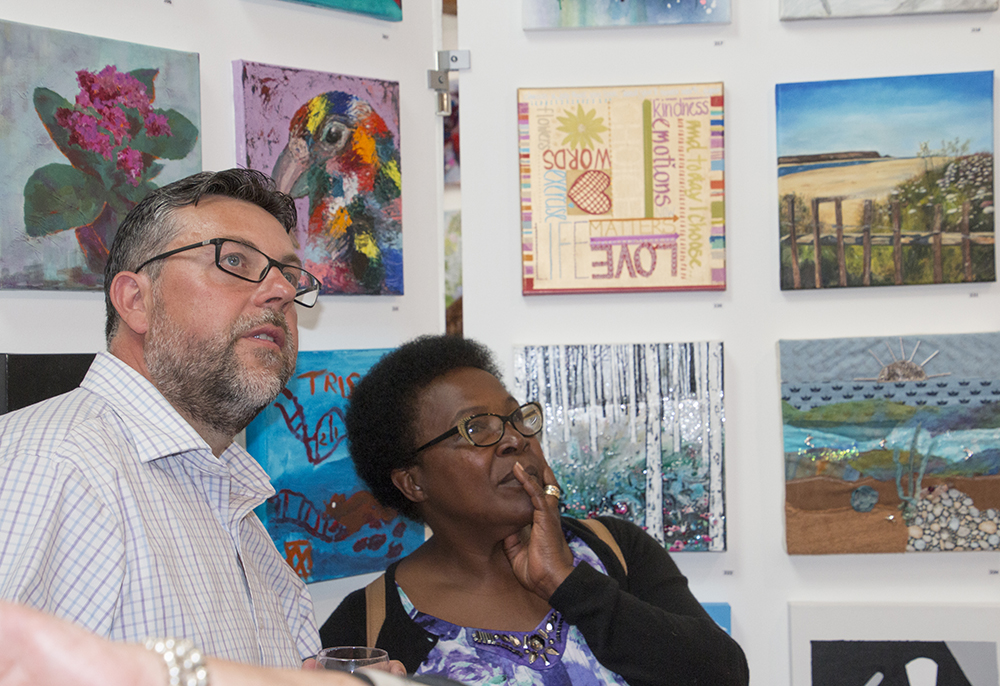 This was the sixth of our 12-inch canvas for charity exhibitions and as always they get better and more creative as the years tick by. This year's Choice Matters has raised another stunning amount for charity – £12,000! We sold almost 480 blank canvases and hung just under 400 finished masterpieces. The variety and mediums used was wider than ever, as you can see from some of the pictures below. There was painting, acrylics, embroidery, sculpture, knitting, woodwork, metalwork and working electric models. You name it and it was there.
The event started with a packed private view, opened again by our friend Kim Wilde. Music was provided by Jim and Tia and our daughter Emily created a wonderful selection of canapes. On the first Sunday there was entertainment from Acid Reflux and members of the Pickled Ukes.
We had hundreds of visitors over the nine days, buying artwork, entering the raffle, enjoying teas and coffees, donating money and generally making this such an enjoyable occasion
We are once indebted to all those who made cakes and helped behind the scenes. We couldn't have done it without your help.
This time we were given generous support from Cass Art, who sponsored all the blank canvases. It made a huge difference to the total raised and we are so grateful for their support.
The charities that will receive money from the exhibition this year are:
Breast Cancer Now The UK's largest breast cancer research charity, dedicated to funding research into this devastating disease
Football Beyond Borders An education charity which uses the power of football to support disadvantaged young people in the UK
Razed Roof Inclusive performing arts group for people with, and without, learning difficulties and disabilities. Based in Harlow
Arthritis Research UK Investing in breakthrough treatments, the best information and vital support for everyone affected by arthritis
The Broxbourne Organisation for Disabled BOD Non-profit making charity providing transport solutions for elderly, disabled and wheelchair-bound people
Anaphylaxis Campaign UK-wide charity operating solely for the growing numbers of people at risk from severe allergic reactions and anaphylaxis
Vasculitis UK Providing support those suffering from vasculitis diseases and their families by providing information and advice
Click image below for more photos