Magawa: our sponsored Hero Rat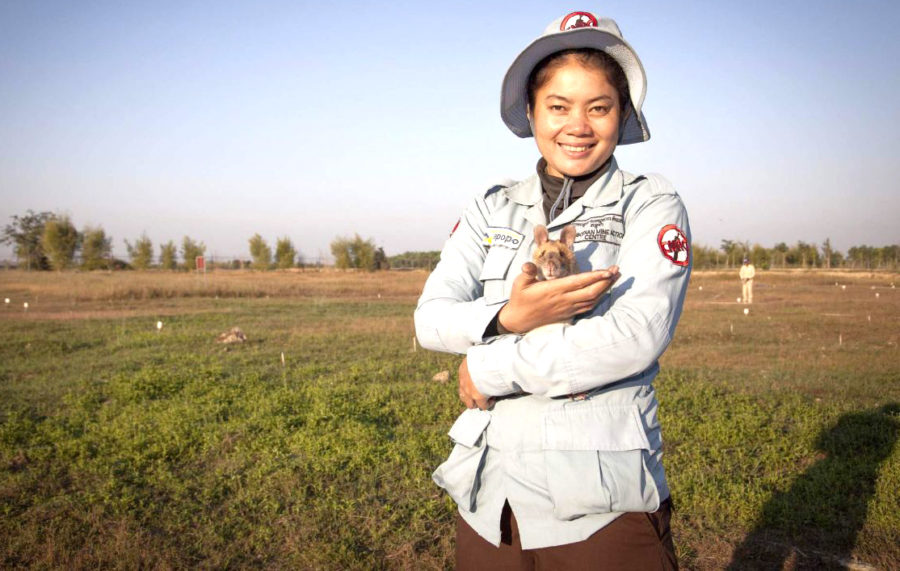 When Jane and I visited Cambodia last year we were shocked to hear that large areas of this magnificent country are still littered with thousands of landmines and booby traps. They continue to claim hundreds of lives each year and inflict horrific, life-changing injuries to people of all ages.
It will be many years before all these mines are cleared – if ever – but one of the amazing ways they are being dealt with is using Hero Rats. These giant rats, from Africa, are able to sniff out explosives, allowing them to be removed and made safe. They are attached to lines that criss-cross known mined areas and because they are so light they do not trigger them. They can cover the size of a tennis court in 30 minutes – a human with a metal detector can take up to 4 days.
Last year, Gravelly Barn decided to sponsor one of these fantastic animals, Magawa, and here are some of the details of his year from APOPO, which organises the operations.
Between 1st January and 31st December 2018 Magawa's impressive sniffing skills and dedication helped to clear an incredible 46,730 meters squared of land, enabling us to hand it back to local communities for farming, development, or merely the freedom to move and play without fear.
Over the same 12 month period, he spent 7,404 minutes working in order to detect and alert his human colleagues to 49 landmines and 31 other ERW. That's a total of 80 explosive items which could have killed or severely maimed local people.
Here is just one of the stories that really brings home what it is like to live with dangers so close to home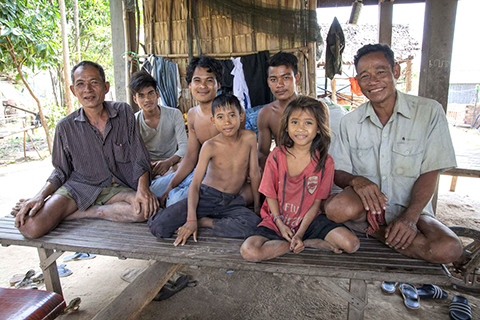 Mine action Cambodia – Chun Ry
A farmer who called the EOD team after his daughter found an old bomb lying in undergrowth.
My name is Chun Ry (far right) and this is my family. I am a farmer who supports eight children. I grow rice and cassava, and I raise 4 cows and many chickens.
I have worked my farm my whole life, and my father before me. During the war we endured many battles near and on our land. It was a very frightening time. There were soldiers everywhere, either resting or fighting. We saw things we would like to forget.
When the war finished it became peaceful for us and all the other families in the area. But our land was not the same. There were unexploded bombs in our field. Many were lying on the ground, but lots were hidden in undergrowth or under the earth. There were bullets, hand grenades, mortars, bombs dropped from airplanes and shells that had been fired but did not explode, and there were landmines along paths and near the river. It was very dangerous but we had to keep working in the fields to feed ourselves. I was so terrified for my children. I forbade them to go to the fields, but the explosives are everywhere. What if they stood on a landmine or picked up an old bomb?
We have lived like this for a long time and there are accidents in the community. We have lost a lot of our precious livestock, which puts us in big financial trouble. Sometimes someone gets hurt. This is terrible for the family and the community as a whole. The family is thrown into financial crisis especially if the person injured is a worker or head of the family. The community meanwhile gets terrified all over again.
Over the years people have worked to remove the explosives. First the Cambodian military and then the government authorities. This has made the land much safer. But we still find the bombs in hidden places.
Six months ago APOPO and CMAC arrived with what they called an 'EOD' team and they called everyone together to explain how they can help. EOD means 'Explosive Ordnance Disposal'. They showed us pictures of what old bombs, bullets and landmines look like and explained that if we find them, we should immediately stop what we are doing, move everyone away and call them. Then they will come and remove the dangerous item. We were very happy about this and almost immediately we started calling them. They were run off their feet!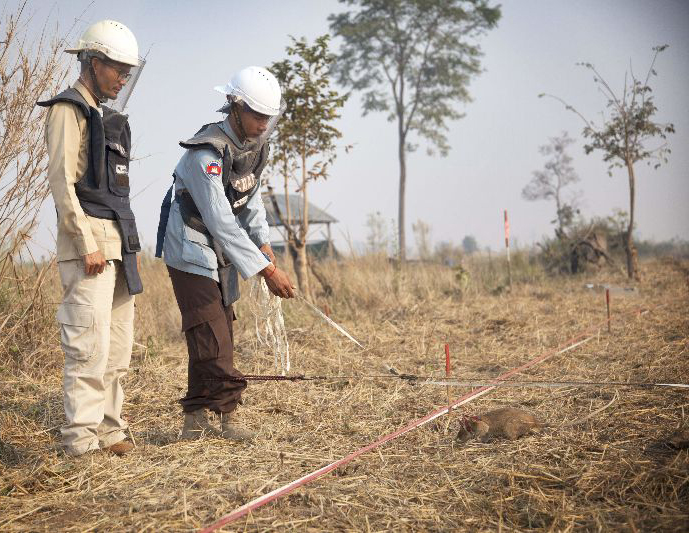 I myself had not called them until today. My daughter Charya was climbing a tree and she noticed something sticking out of the earth. She ran to get me and I left her at home and went to see. It looked very suspicious.
I called the EOD team and they arrived straight away. They told us to stay away and they went to the tree. They found an old mortar bomb and they used metal detectors to check all around the spot in case there was more. The Team Leader told me that long ago a farmer must have found it in a field and moved it away under the tree out of his way. It could have blown up in his hands, but in those days there was no EOD team!
All the nearby families had come to see what was happening and the EOD team gave us all another safety lesson. Everyone is scared again! But at least that is one more dangerous bomb off my land. One less bomb to hurt my family.
Learn more
These rats not only find mines but can quickly detect the presence of tuberculosis in samples, so it is not surprising they have been given the name of Hero Rats!
If you would like to know more about APOPO and the work it does, follow this link