Robin Hill

November 12
If music be the food of love then everyone at this concert featuring the renowned guitarist Robin Hill must have left with appetites satiated and music in their ears.
Robin played to a another full house at Gravelly Barn and featured music by Vivaldi to Rodrigo, Bach to Lennon & McCartney as well as his own compositions.
The event raised an amazing £2,240, which will be shared between two charities: the Multiple Sclerosis Society and Diabetes UK. They are charities close to the hearts of Braughing residents Richard and Mary Walsh, who worked tirelessly to help make the evening such a success. The final total was boosted by a generous anonymous donation of £400 on the day.
Thanks to the helpers, as well as all who attended and supported this endeavour, especially Robin Hill, whose performance was his generous contribution to the charities.
Robin Hill
His collaborations with classical tenor Luciano Pavarotti, American soul singer Madeline Bell, heavy metal bands Deep Purple and Jethro Tull, our very own Lesley Garrett, Russell Watson and fellow guitarist John Williams, have excited the musical world.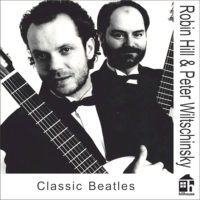 His composition Concerto Primavera was acclaimed when premiered by the Royal Liverpool Philharmonic Orchestra, yet he is also admired for his interpretation, with Peter Wiltschinsky, of many Lennon and McCartney favourites. His book The Guitar Gymnasium is used in music colleges around the globe.
Click on image below for more photographs